Thermophore Small/Petite Size Moist Heating Pad / Arthritis Pad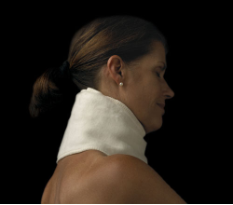 Click to enlarge image(s)
Thermophore's unique design produces Moist Heat therapy. Choose from the Original Thermophore Automatic Moist Heating Pad with hands-on switch, or the new Thermophore Arthritis Heating Pad with hands-free timer switch.
Common Features:
Effective: Delivers high temperature moist heat to stimulate circulation, relieve pain and stiffness, and relax muscle spasms or tension
Convenient: Thermophore provides moist heat with no need to add any water. Moist heat is created automatically by drawing moisture from humidity in the air and retaining it in the hot pack's outer cover.
Efficient: Moisture helps stimulate tissue activity with deep, penetrating heat and temporary pain relief in a short time
High Quality: Thermophore is the brand most often used and recommended by doctors, physical therapists and other medical professionals
Economical: Simply plug into a 110-volt outlet. Thermophore moist heating pads are designed to last for many years
Thermophore hot pack has a tightly woven flannel cover which retains moisture from the air
Manufacturer Full One Year Warranty
Product Options:
1. Original Thermophore Automatic Moist Heating Pad:
Benchmark in professional-quality moist heat therapy
Hand-held momentary switch that you simply hold down to activate Thermophore's heat
The momentary switch is the safest way to delivery high temperature, as these treatments are very relaxing and the user may fall asleep. If this happens, the switch will snap off as the user's finger relaxes thereby preventing burns
2. Thermophore Arthritis Heating Pad:
Effectively increases circulation to speed healing and reduce pain & swelling
Added convenience of a simple ON/OFF button to control the heat
New one-touch hands-free switch with 20-minute timer automatic shut off
Four light bars on the switch indicate time remaining on the 20-minute timer
The Original Thermophore Automatic Moist Heating Pad and the Thermophore Arthritis Heating Pad are identical in all aspects of heat levels, construction, and moisture protection - except the switch function.
Small Petite/Neck Size - 4" x 17"
Designed specifically for use on the neck, throat, sinuses and jaw areas.
Comes with Velcro strip to fasten around area.