Deluxe Foot Warmer / Bed Warmer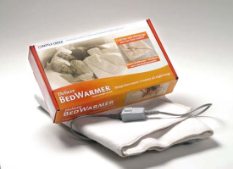 Click to enlarge image(s)
Battle Creek Equipment Foot Warmer stops cold feet at night!
Keeps feet warm 'n toasty all night long!

Features:
Placed across at the foot of your bed under the bottom sheet
Gentle heat rises to give you cozy warmth for your feet and legs, keeping you comfortable all night long
Tucks neatly under the sheet, where it stays flat and out of sight
Pad size of 18" x 36"
Dual temperature switch allows you to heat the unit quickly and then easily switch to low heat, to maintain warmth through the night
Easy to use switch
Comes with a luxurious fleece cover that adds an extra layer of comfort for users that prefer the Foot Warmer on top of their sheet for direct contact
10-foot cord makes it easy to reach wall socket
Manufacturer Full One Year Warranty

The perfect solution for people with cold feet or poor circulation!