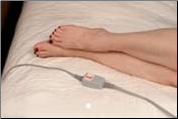 Battle Creek Foot Warmer keeps feet warm 'n toasty all night long!
At ElectricBlanketDepot.com, we provide safe, comfortable and high quality foot warmer products at affordable prices. We offer 2 styles of foot warmers that are guaranteed to keep you warm and comfortable.
Featuring foot warmers by Battle Creek Equipment:
Standard Foot Warmer / Bed Warmer: Single temperature model
Deluxe Foot Warmer / Bed Warmer: Dual temperature switch and comes with free luxurious fleece cover
These electric foot warmers / bed warmers offer many benefits to our customers:
Gentle heat rises to give you cozy warmth for your feet and legs, keeping you comfortable all night long
Placed across at the foot of your bed to provide warmth where you need it most
Save energy on fuel costs by reducing your home's thermostat while you sleep
Tucks neatly under the bed sheet, where it stays flat and out of sight
And many more benefits!
The perfect solution for people with cold feet or poor circulation!
Click on one of these great electric foot warmers offered by ElectricBlanketDepot.com